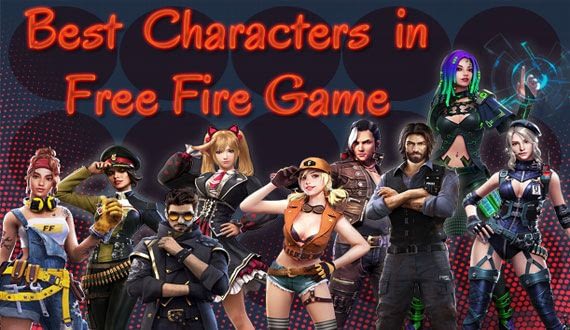 Top 10 best character in free fire
This might seem super tricky to choose some specific best characters on Free Fire. This sensational game has got all the exotic and extreme characters to play with. All of these got some iconic powers to make the royale battle even more fun. 
We all know free fire is holding the crown of being the top mainstream games all around the world. Here players get to enjoy 10 minutes of shooting rounds with 50 others in a team. Players often ask about the best characters in the game. In reality, gamers' gameplay can only make a character go best. However, I've made a list of the top ten best characters: The list will include characters like DJ Alok, Clu,k, Notora, Hayato, kelly,a124, Steffie, moco, Jai. To know more about these exotic characters, keep reading the article. 
Who is the No 1 character in the free fire? 
From beginners to the gem of free-fire, everyone will agree on this point. Alok is certainly the NO 1 character among all. Being the best, you can't get it for absolutely free. You can grab this fantastic character from the game store for about 599 diamonds.
This character has something really extreme. You would love its increasing movement, replenish HP as well as healing capabilities. Alok can increase the speed by 15 percent and restore about 5 HP in about ten seconds. So, you can really get an idea of how exotic this character would be worthy of being considered the best.
Which character is the best character in the free fire?
Well, I've already mentioned Alok has always been number one on the popularity list. But there are plenty of other characters on the list. If you really want to know which character goes best for you, check on the list now: 
Top 10 best character in free fire:
DJ Alok, Clu, K, Notora, Hayato, kelly,a124, Steffie, moco, Jai – are the names you would expect in the list. Let's' have a quick check over the character powers:
DJ Alok
– Number one on the list is none other than DJ Alok. This character is Pretty famous for its instant speed reducing system and restoring ability. It has always been a bragging-worthy character among all. 
Clu
– You can use the Clu as a private detective to grab gameplay of the opposite team. 
K
– K is considered as the unique power-owning character. This is a jiu-jitsu character that can play in two different modes. These are Jiu-Jitsu mode and psychology mode. 
Notora
– Notora holds extraordinary power as a motorcycle racer. This female character has the superpower to save the game and members by driving the bike in tough situations. 
Hayato
– Hayato is an interesting character that can increase the number of armor penetration in surprisingly good amounts. 
Kelly
– Kelly is the ultimate powerful and beasty character to play on free fire. You can increase the power and destroy the damage level. 
A124
– A124 is the girl road built with the most robust technology. It can play two states of mind and blow any battle with its advanced technology of superpower.
Steffie
– Steffie is the pretty defending character to play on free fire. Here you'll receive fewer damages than the real explosion or bullets attack the game. 
Moco
– Moco is able to tag the enemies' information for 5 seconds and pass these to other teammates. Moco holds extraordinary hacking power throughout the game. 
Jai
– Jai is a well-fashioned SWAT agent who is a pretty expert with raging reloading. This can undoubtedly upgrade the players' experience with shooting. 
Who is the strongest player in the free fire?
Hayato, Apart from Alok, is the most robust character to play on free fire. This is pretty well known for armor penetration while the game is riding on a low HP.
The most exciting thing about this character would be it's suitable for both aggressive and defensive kinds of game. The versatility can also help to cut off the frontal damages while the game is going on. With Hayato, you'll get eight different levels throughout the game. At the highest level, you get a maximum increase in the armor penetration. Also, this character has got a pretty attractive story. 
Enlightening up all these facts, Hayato stands as the strongest player in free fire among all. The rest will absolutely depend on one's gameplay and strategy to use the character wisely. 
Who is the king of free fire?
This question is pretty popular as well as easy to guess. GT (Gaming Tamizhan ) has always been the king of free fire, holding a 7.41 percent winning rate in his record.
Gaming Tamizhan is a Tamilian YouTuber whose niche is Free fire. He has been streaming on youtube since 2019. This king has played around 647 solo games till now. The unbeaten game number is 48, which makes him stand top on the list. 
Well, the real name Ravichandra Vigneshwer. This young gamer has gained 1.93 million subscribers being a pro in free ire. You can get 185 million-plus views making his video trending on the list often. This YouTuber has more than 710 live streaming videos on his channel. 
Conclusion
Free fire, the hearth robbing shooting game for the people who love it adventurous. Having a versatile design and flexible settings, the game has its own heart of all generation gamers. Herewith all the strongest characters free fire makes each level more exciting. In this article, I've mentioned DJ Alok, Clu, k, Notora, Hayato, Kelly,a124, Steffie, moco, Jai – the top ten best characters in the free fire. Hopefully, this information will help you to understand the gameplay more wisely this time.
You May Also Like
July 28, 2021
June 20, 2021
April 27, 2021